DVMP Basic
DVMP Basic is a cut-down version of DVMP Pro. It plays DV AVI files but contains none of the Tools or player enhancements of DVMP Pro - you can find more details of these on the DVMP Pro pages.
The rest of this page describes only DVMP Basic which is free for personal (non-commercial) use.
DVMP Basic plays AVI files captured from a DV camcorder and displays the following information that was stored by the camera in the metadata area of the DV AVI file.
DV Metadata displayed:
Timecode
Date and Time of Recording (datecode/datacode)
Shutter speed
Exposure (f-stop)
Image stabiliser on/off
Gain in dB
Exposure Mode
White Balance Mode
White Balance Setting
Audio details
DVMP Basic has the following features:
NTSC and PAL
Displays 4:3 and 16:9 (widescreen) format correctly
View metadata in real time and frame-accurate
Pause and frame step forward or backward
Jump to next or previous scene
Full/Half resolution selection option
Resize window, and video automatically resizes to fit
DV AVI file Type 1 and 2 supported
Does not install any codecs or DLLs
DVMP Basic is a single standalone program file. It does not install codecs, DLLs or anything else on your system and does not change any of your system settings. It couldn't be simpler or safer.
The information is displayed per frame and appears in real time beneath the video as it is playing. You can pause, step backward or forward a frame at a time, or jump to the next or previous scene and the metadata is displayed with frame accuracy. You can view the time and exposure settings used by the camera when the footage was shot.
The DVMP Basic version is free for personal use.
Alternatively you may be interested in the more advanced version "DVMP Pro".
Buttons
The row of buttons along the bottom of the window are split into 3 groups:
Play, Pause and Stop
Step to previous/next frame
Jump to previous/next scene
Metadata Display
The metadata is displayed in five columns immediately below the main video display. If any items of metadata are not present in the file they will appear as a series of "-"s.
1st Column (Timecodes)
Timecode - semi colon between secs and frames denotes drop frame
File Progress Timecode - this is a timecode generated by DVMP to show the progress into the file. It is not an item of metadata and is therefore displayed in grey. The timecode always starts at zero at the beginning of the file and increases unbroken to the end of the file. It effectively shows the absolute frame number of the currently displayed frame.
2nd Column (Date and Time)
Date of Recording - dd/mm/yy or mm/dd/yy selectable via Tools>Options menu
Time of Recording - hh:mm:ss
Date and time of recording is sometimes referred to as "datacode" or "datecode".
3rd Column (Exposure)
Shutter Speed - e.g. "50" denotes 1/50th of a second
Iris - Aperture setting (F-stop)
Image Stabilizer - ON or OFF
4th Column (Exposure)
Gain - in dB
Auto Exposure Mode - Automatic, Gain Priority, Shutter Priority, Iris Priority or Manual
5th Column (White Balance and Audio)
White Balance Mode - Automatic, Hold, 1-Push or Preset
White Balance - Candle, Incandescent Lamp, Fluorescent Lamp (Low Temperature), Fluorescent Lamp (High Temperature), Sunlight or Cloudy
Audio Details - sampling frequency in kHz (32, 44.1 or 48) / L=locked or U=unlocked
Other Details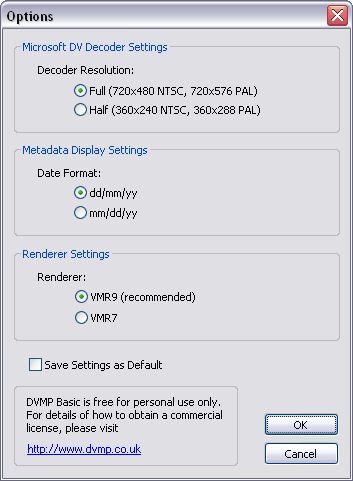 DVMP Basic runs on Windows 2000, Windows XP or Windows Vista. DirectX 9 is preferred, but you may also find that it works OK on DirectX 7.
If you have an older PC, you can reduce the load on the CPU by selecting the Half Resolution option under the Tools>Options menu (see pic opposite). Note that you can only change options when there is no file open.
You can also choose between the VMR9 and VMR7 renderers. It is recommended that you leave VMR9 selected, but some older graphics cards (or buggy drivers) seem to play "blank" video using VMR9 - in such cases choosing VMR7 may solve this problem. Note that VMR7 may use video overlay if your graphics card supports it. Also VMR7 is not supported by Microsoft on Windows 2000.
The "jump to previous/next scene" feature requires that DVMP Basic scans the whole AVI file to detect the scene changes. Depending on the size of the AVI file, this scan may take a while. Consequently when you open an AVI file, DVMP Basic will not perform this scan until the first time you click the previous scene or next scene buttons - this will save time if you don't need to jump between scenes. When the scan completes, a tick mark will appear on the slider showing the location of each scene change detected.
Follow this link to read the Release History page for DVMP Basic.
If you discover any bugs or have any ideas for additional useful features then please let us know.
To install DVMP Basic, just download the installation file and execute it. It does not install any codecs or DLLs on your system and does not change any of your system settings. You can de-install it simply by opening the "Add/Remove Programs" Control Panel icon and select "DVMP Basic (remove only)".
The DVMP Basic version is free for personal (non-commercial) use.
Alternatively you may be interested in the more advanced version "DVMP Pro" which has enhanced player features and a variety of tools including:
A powerful file splitter - split by timecode, date & time, user bits, tape index marker
Metadata editor - change timecode, date & time, user bits, widescreen flag
Change NTSC timecode from drop frame to non-drop and vice versa
Burn-in timecode, date and time of recording, aperture, shutter speed, white balance settings and other metadata
Export AVCHD, HDV and DV metadata
Convert file types between AVI Type 1, Type 2 and Raw DV.
Batch processor
Plays and time-stamps AVCHD m2ts/mts files, HDV m2t files, Sony HDD/DVD, MOD, MP4 and MOV files
Add date/time of recording to file names of DV, HDV, AVCHD and MOD files